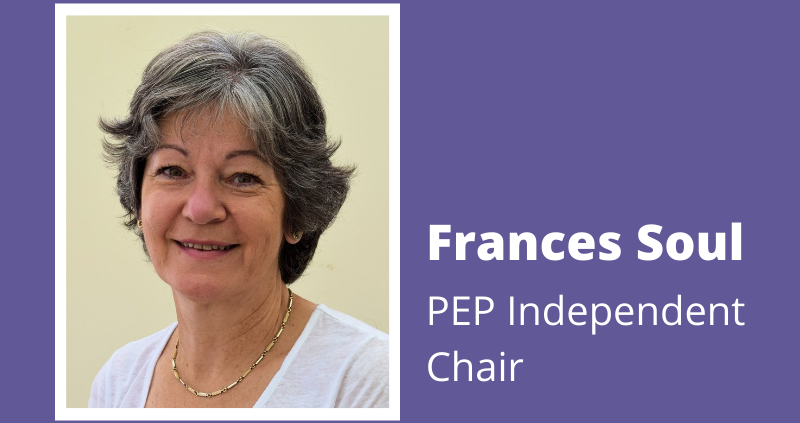 For those of you that I didn't meet at the PEP summer conference, it is good to be able to say hello and give a brief introduction and update on my time so far. My name is Frances Soul. I live in Hampshire but have worked in schools across England and also with education providers in South Africa, India, and USA. I have had a rich, varied and possibly atypical career in education and aim to use this to the benefit of the PEP as your Chair. As I said when I joined the PEP summer conference I won't waste space and time on my CV, just 'Google me' if you want to know more.
More importantly, last week I had the pleasure of meeting a few members of the PEP strategic board face to face. It was so good to start visiting Portsmouth schools and see and hear from those leading some of the priority strands of year 2 of the PEP strategy. I heard from Natalie Sheppard about the digital innovation coming out of TSAT and collaboration across the PEP on the Digital Drive, and from Matt Johnson at Copnor Primary on the priorities for the language and literacy strand. If you have not yet read it do take a look at the Approaches to Reading document, which was a true collaborative development that came from the wider group last year.
Inclusion is a strong theme of the PEP and I was delighted to be able to visit Mary Rose Academy to meet Sharon Burt and hear of her work within Solent Academies Trust and also the collaborative initiatives with the PEP for inclusion for all schools and children from EY to post-16. Speaking of post-16, I then moved on to meet Simon Barrable and hear how a more unified strategy for post-16 provision has been enabled through the creation of the City of Portsmouth College and their collaboration on the priority to improve post-16 impact and reduce NEET. Finally with Jane Bush at Langstone Junior Academy, UniCAT, I heard about her leadership of the primary heads group for the year and the work coming out of the Solent Maths Hub for which she is currently the PEP representative.
Without exception I was greeted with energy, enthusiasm and a commitment to working together for the good of all children and young people in the schools and colleges across Portsmouth. I look forward to meeting more of you over the coming weeks and months and leading the strategic board on your behalf to even greater impact and success.
Please do feel free to contact me directly on [email protected] with any questions, suggestions or even an invitation to meet. I will always respond!
Frances Soul
PEP Independent Chair
https://www.portsmoutheducationpartnership.co.uk/wp-content/uploads/2021/09/Frances-Soul-PEP-800x550px-1.png
550
800
Justine Streeton
/wp-content/uploads/2017/09/PEPlogo.jpg
Justine Streeton
2021-09-22 17:02:58
2021-09-22 17:02:58
Introduction from Frances Soul, PEP Independent Chair