A new resource designed to inspire future teachers has launched, aimed at those considering their career options. With many people working from home and looking after children due to school closures, the Teach Portsmouth news hub provides the information needed to start a career as a teacher regardless of industry or background.
Through a range of inspirational content pieces designed to offer a realistic picture of teaching locally, the news hub highlights the breadth of opportunities available in Portsmouth.
Those interested can find information on how to apply for teacher training, interviews from Portsmouth-based teachers and case studies from local providers.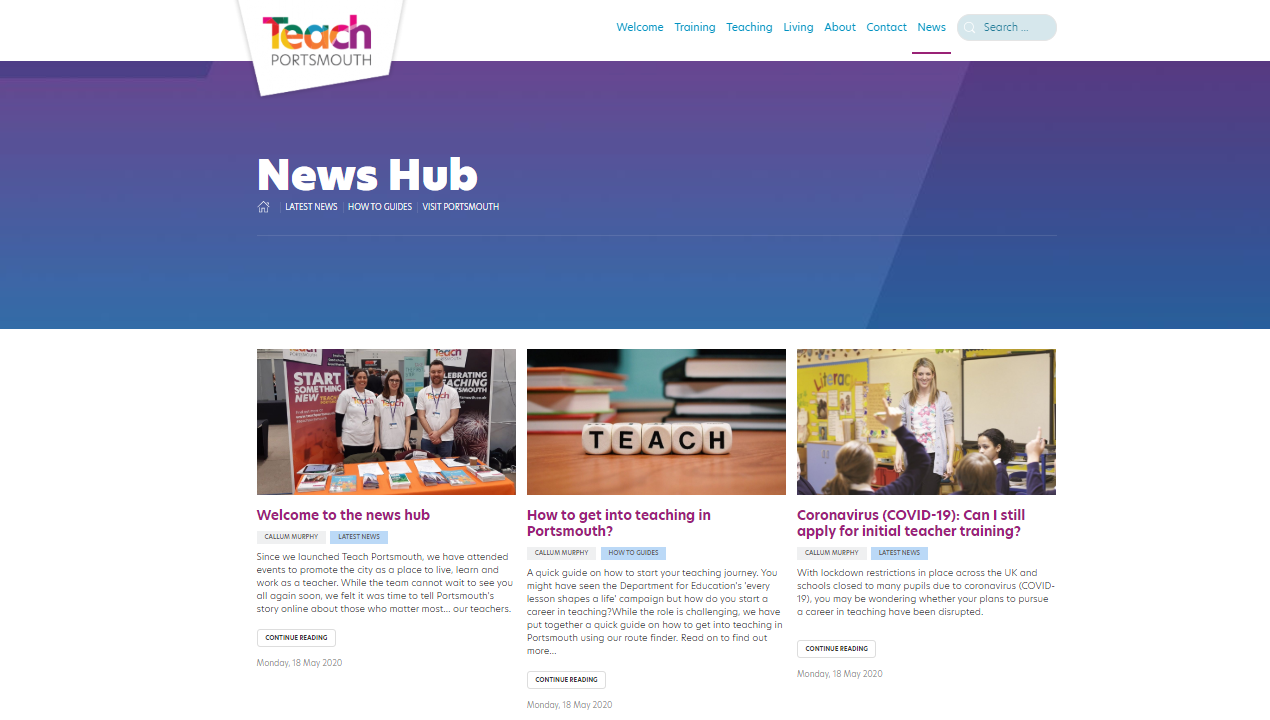 Cllr Suzy Horton welcomed the launch of the news hub: "There are so many heart-warming stories from teachers waiting to be told. The Teach Portsmouth news hub will be the best place to locate news, inspirational stories and interviews from those who matter most – our teachers."
"With COVID-19 impacting our daily lives, it's more important than ever before we celebrate the positive stories coming out of our community at this time. If they inspire someone to consider teaching, then that's fantastic."
The launch of the news hub coincides with the 'your time to teach' campaign designed to reassure local residents that teacher training continues for September. Initial teacher training providers have shown their support for such a resource.
Cate Worrall, principal of Portsmouth Primary SCITT (School centred initial teacher training) backed the launch of the news hub: "This year, we've reaffirmed the immeasurable impact teachers make on the whole of society. We are happy to support the Teach Portsmouth news hub and any opportunity to showcase the inspirational stories coming out of Portsmouth at this time."
The Teach Portsmouth news hub will offer weekly content updates including video interviews, frequently asked questions and topical pieces suitable for those who are new to the profession or those who have recently qualified.
Lynn Nicholls, Schools Direct Leader at Portsmouth Teaching School Alliance supported such an essential resource: "We are proud that Portsmouth residents train to teach with us and become extraordinary teachers in local schools. Trainees always talk about how welcoming the teaching community is in the city. Having the Teach Portsmouth news hub is going to be a brilliant way to see and acknowledge the work teachers do and the difference they make."
For more information on teacher training in the city as well as inspirational content, visit teachportsmouth.co.uk/news
/wp-content/uploads/2017/09/PEPlogo.jpg
0
0
Justine Streeton
/wp-content/uploads/2017/09/PEPlogo.jpg
Justine Streeton
2020-05-22 14:36:49
2020-07-10 16:08:20
INSPIRATIONAL RESOURCES FOR BUDDING TEACHERS LAUNCHED ON TEACH PORTSMOUTH NEWS HUB