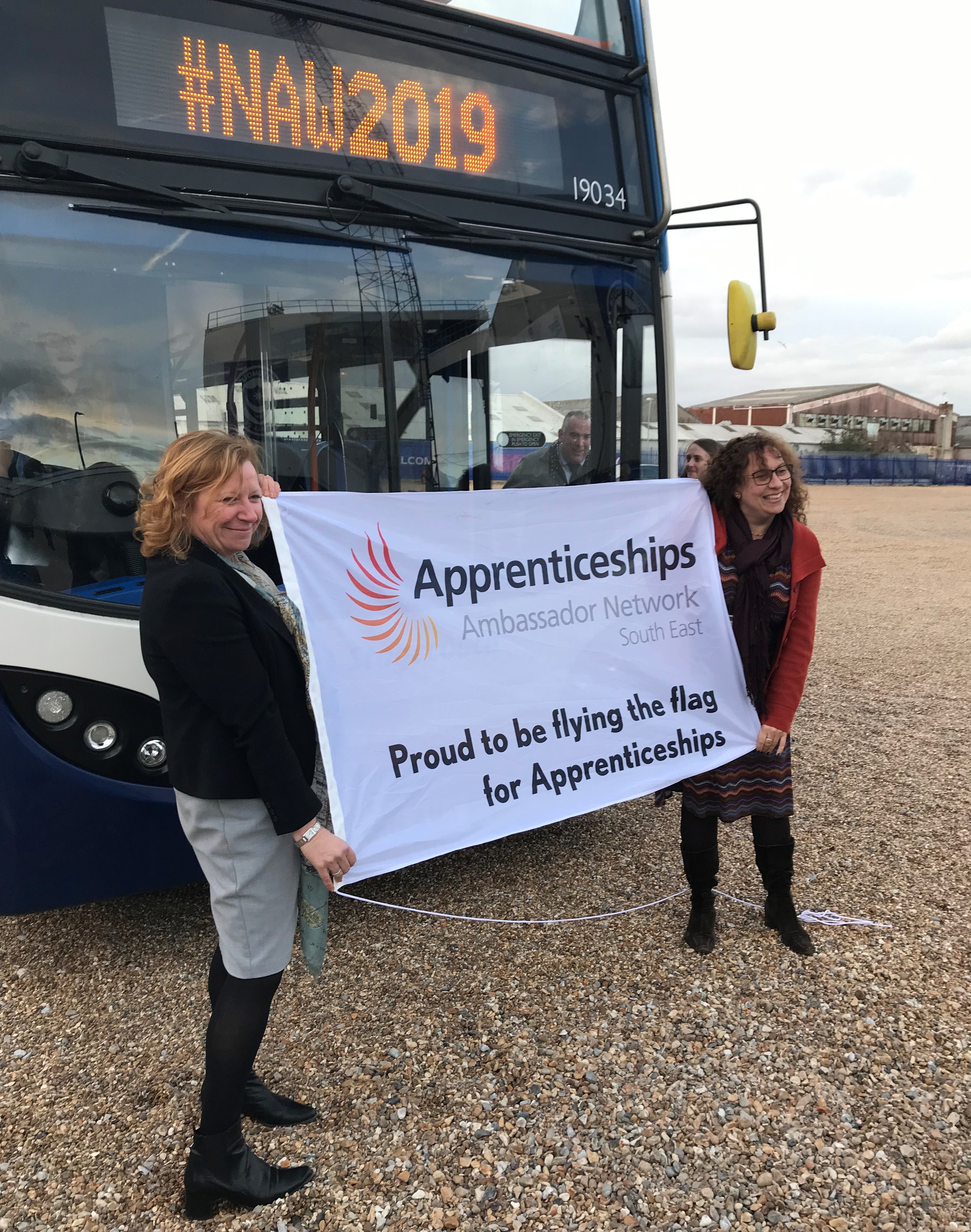 All aboard! Apprenticeship bus inspires next generation with exciting futures
Amazing opportunities in a wide range of apprenticeships await secondary school students aboard the apprenticeship bus from 4 – 6 February as part of National Apprenticeship Week. This year, the bus will be arriving at schools across the city for an additional day.
The initiative is led by Shaping Portsmouth and other partners including The University of Portsmouth, The Solent Apprenticeship Hub and Stagecoach. The bus was first launched in 2018 with the mission to inspire secondary school children to consider apprenticeships as an alternative after education.
On the day, experts from the ASK Programme will be on hand to provide career advice and deliver a presentation on what's next after school.
Local businesses have been invited to send apprentice ambassadors to talk about careers in a range of sectors including marine, science, technology, business and engineering.
Cabinet Member for Education, Cllr Suzy Horton welcomed the scheme: "It's fantastic to see the apprenticeship bus return for a third year after the positive reception it has previously received."
"Working with businesses across the city ensures students will have the skills they need to succeed in the future."
Last year, 264 young people from school attended the apprenticeship bus across two days. With the additional day this year it is hoped even more will be inspired to take up an apprenticeship.
Chief Executive Officer, Stef Nienaltowski from Shaping Portsmouth said: "The apprenticeship bus is now in its third year of operation and we've seen even more schools getting involved."
"The bus is just the start of what we hope will be a strategic change on the number of apprenticeships started and completed in the city."
Students will have the opportunity to learn more about local vacancies and how to apply for them. The scheme is supported by Portsmouth City Council and Teach Portsmouth.
To find out more about National Apprenticeship Week, visit portsmouth.gov.uk for more information.