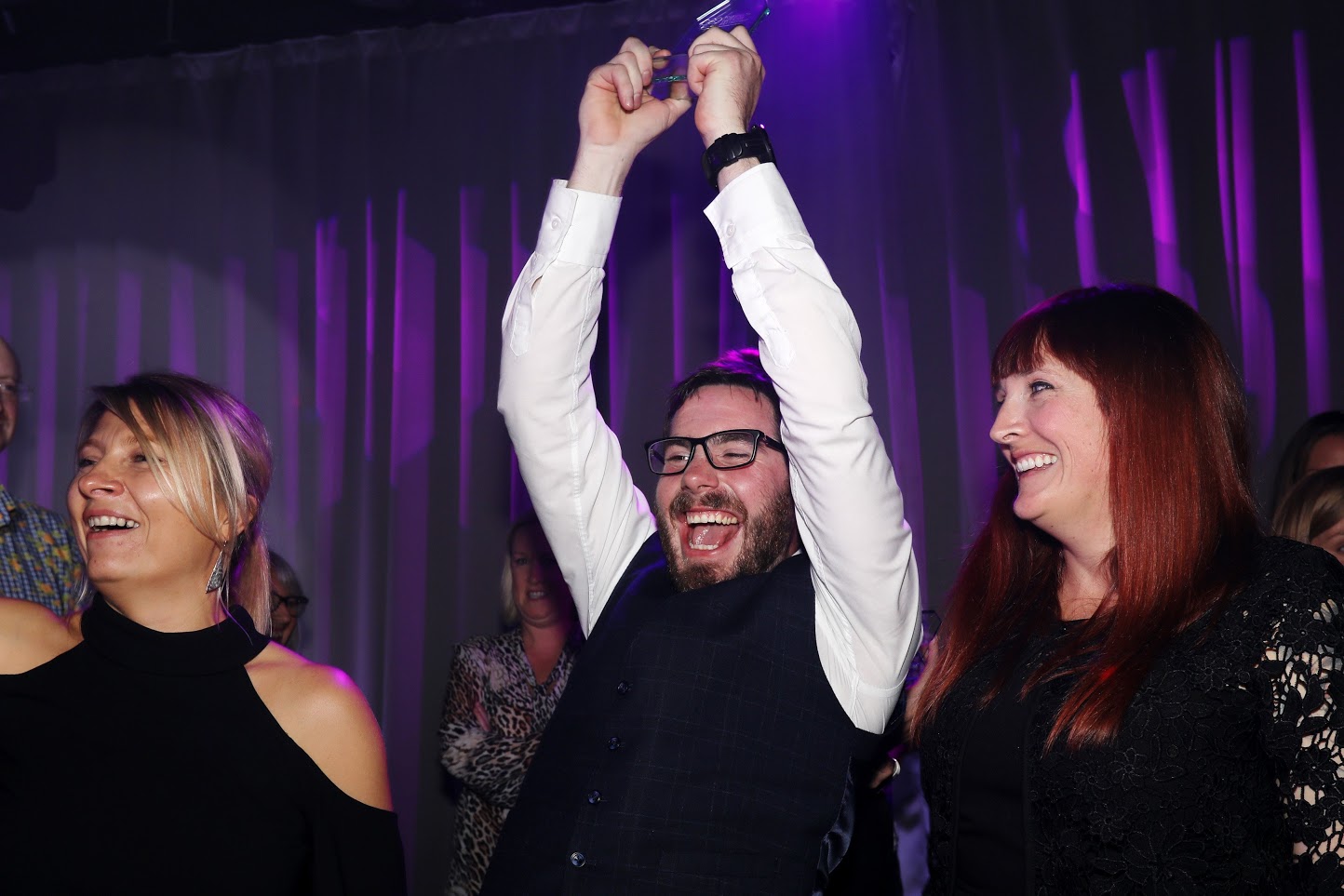 Leadership, Recruitment & Retention
The shortage of teachers is a continuing challenge for the education sector in England particularly in certain subject areas and in certain regions, including the South East and Portsmouth. The dramatic rise in pupil numbers means that more teachers are needed than ever before, but at a time when fewer graduates are entering the profession.
The Portsmouth Education Partnership (PEP) has established a Teacher Recruitment & Retention Group to address this issue.
Portsmouth offers a range of services to support schools with recruitment, retention and HR issues through the traded services website. These include the NQT induction programme, and a highly regarded schools' HR service.
Portsmouth Teaching School Alliance and Portsmouth City Council run an annual recruitment fair which is held in January of each year.
If you are an experienced teacher, an NQT or RQT, looking to return to teaching or are considering a career in teaching, it is well worth coming along to the annual recruitment fair to meet schools from across the city including primary, secondary, special and post-16. You will have the opportunity to discuss and apply for current vacancies in our schools as well as discuss future opportunities.
Our next recruitment fair will be taking place on Saturday 19th January 2019 at Portsmouth College from 10.00 a.m. to 12.30 p.m. (flyer below).
Teach Portsmouth Jan 2019 event flyer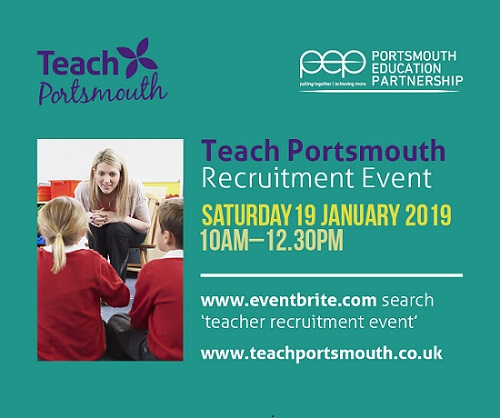 The PEP was proud to host first Teach Portsmouth Awards evening on 5th October 2018 to coincide with World Teachers' Day.
The judging panel had a very hard task due to the high quality of nominations from schools across the city.
Awards were presented to winners and short-listed nominees in 6 categories.
Community Award: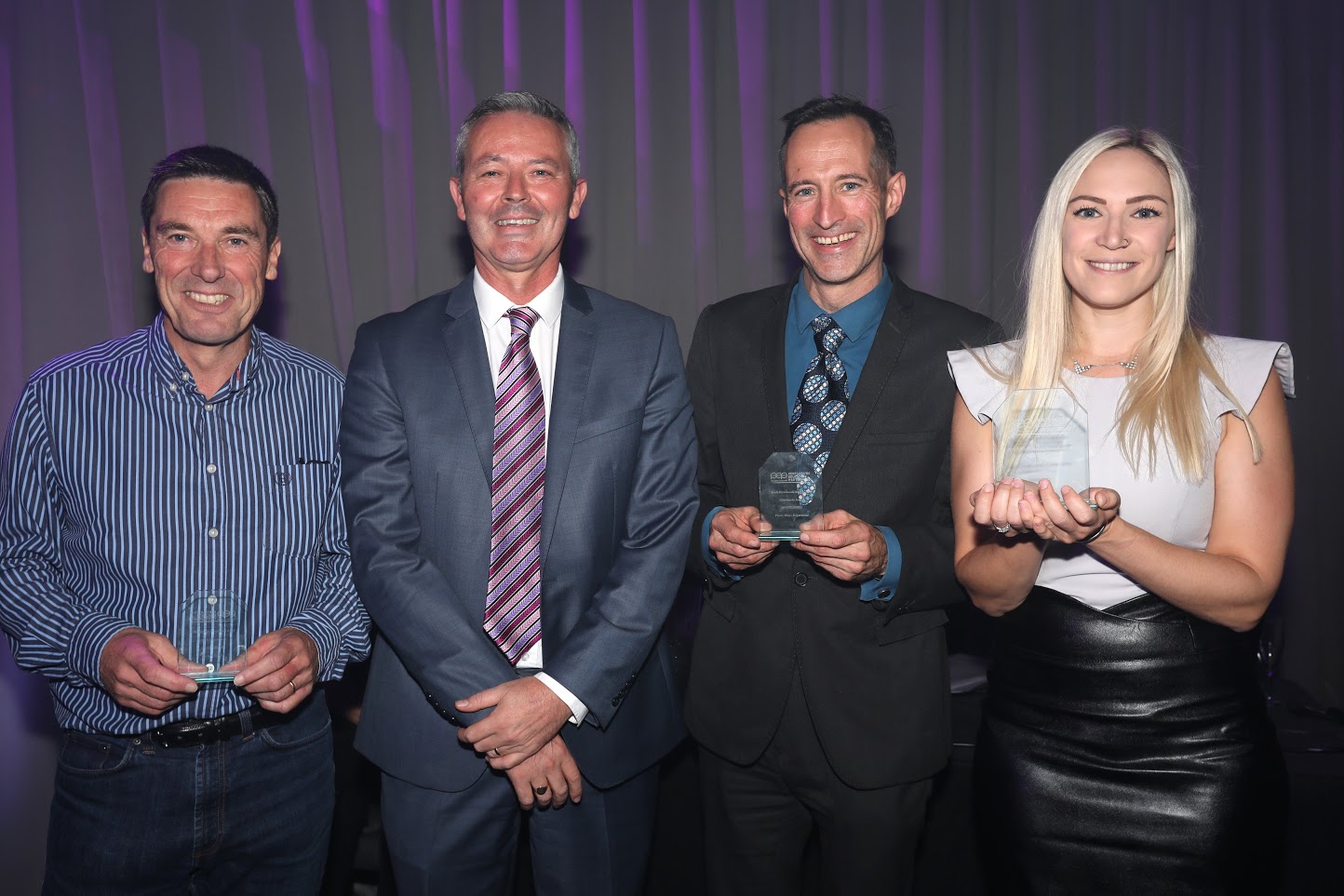 This award celebrates the work of staff and others who have gone "above and beyond"
to support the local community.
Short-listed nominees:
Priory School Music Department
Father Marcin from St Swithun's Catholic Primary School
Community award winner
Lucy Ellis from Northern Parade Schools
Picture Credit: The News Picture Credit: The News
Creativity & Innovation Award:
This award goes to those staff who have thought 'outside of the box' and developed new approaches / innovative practice, beyond the conventional curriculum, which have had a positive impact on teaching and learning; adapted teaching methods towards creative thinking; and developed opportunities for all pupils to expand their creativity.
Short-listed nominees:
Year 1 Team at Mayfield School
Olivia Chrus, Alison Rogers, Natalie Williams and Tamara Gale of Moorings Way Infant School
Creativity & Innovation award winner
The performance and design teams at Admiral Lord Nelson School
Wellbeing Award
This award is to celebrate the work of staff who have been instrumental in developing approaches in the school to improve the emotional and physical health and wellbeing of pupils and / or staff
Short-listed nominees:
Springfield School – Jo Holbrook, Victoria Nash, Phil Franklin, Emma Forrest, Grace Lawrence, Wendy Evans, Mia De Caen
Solent Schools – Service Family Support TeamCastle View Academy – Safeguarding Team
Wellbeing award winner
Picture Credit: The News
The Portsmouth Academy – Wellbeing Team
Inclusion Award:
This award is to celebrate the amazing work of staff who have been instrumental in developing and embedding inclusive practice across a school, particularly in terms of the support that is given to pupils with special educational needs and / or disabilities and those with social, emotional and mental health needs.
Short-listed nominees:
Fernhurst Junior School – Inclusion Team
Priory School – School Pastoral and School Support Teams
Rachel Thripp, Laura Hickman, Gill Betteridge, Kerri Jennings, Liz Chambers, Ashlie Traynor, Karen Cleeve from Moorings Way Infant School
Inclusion award winner
Manor Infant School – Nurture Team
Diversity Award:
This award is to celebrate those staff in our schools who have played a key role in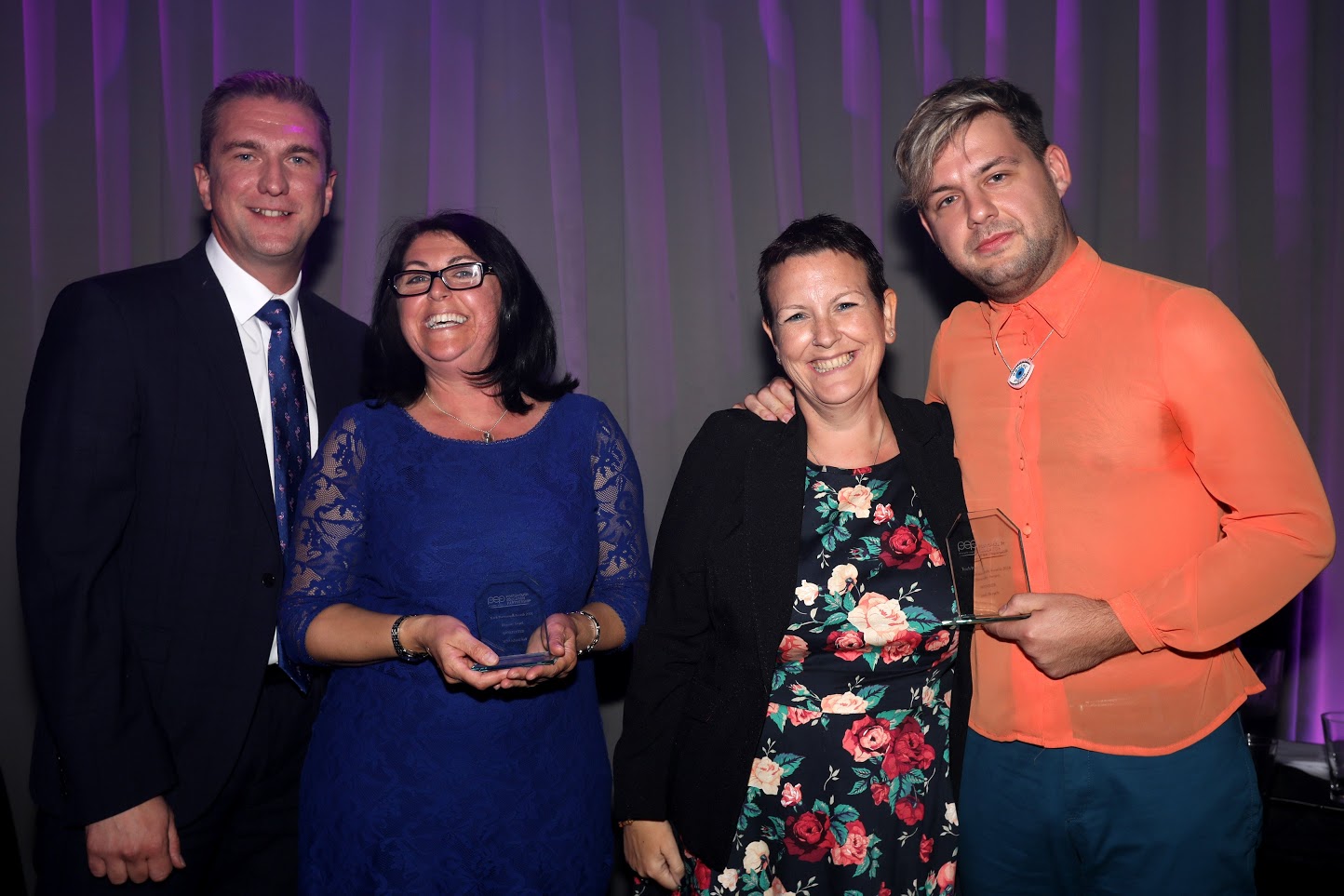 raising the awareness of, and celebrating, cultural diversity in our schools and the local community, across any of the equality strands
Short-listed nominees:
ALNS
Diversity Award winner
Josh Breach from Northern Charter Academy
Picture Credit: The News
Unsung Hero Award
This award is to celebrate the staff in our schools who rarely get a mention and are never in the limelight but who are invaluable to the school and who have a record of outstanding contributions.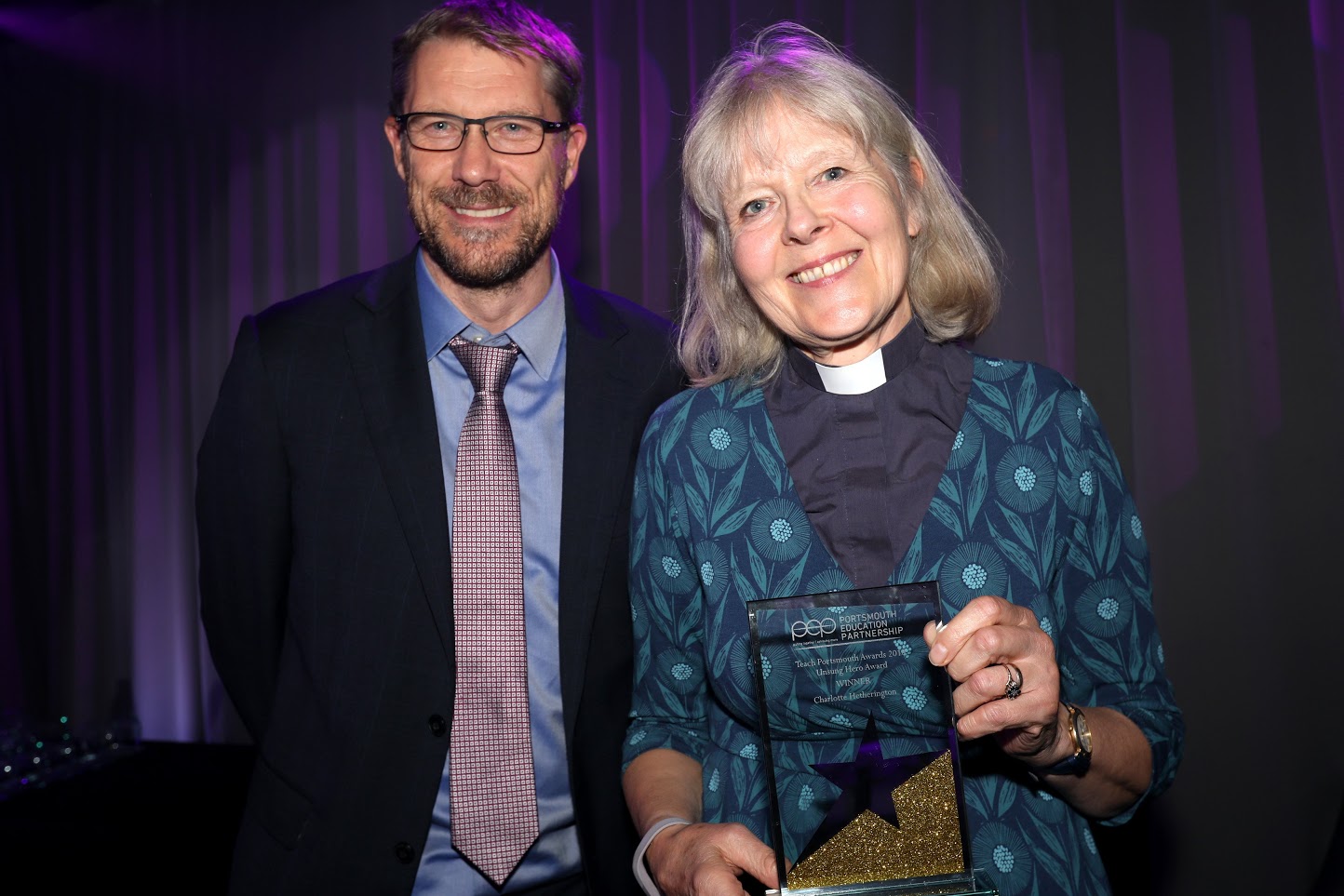 Short-listed nominees:
Jan Andrews, Admiral Lord Nelson School
Karen Davies, Cottage Grove Primary School
Lesley Bird, Manor Infant School
John Gittins, The Portsmouth Academy
Unsung Hero Award winner
Charlotte Hetheringon – Arundel Court Primary
Picture Credit: The News
Lifetime Achievement Awards
This award is to celebrate the staff in our schools who have served in Portsmouth for 20 years or more, providing outstanding service during that time.
We were absolutely delighted to present this award to 37 winners
ALNS   Debbie Lucas
Arundel Court    Karen Stocks
Castle View  Chris Bailey
Castle View  Emma Williams
Castle View  Simon Watkins
College Park  Debbie Anderson
Copnor  Primary Chris Warne
Cottage Grove  Ann Ray
Cottage Grove    Carrie Blandford
Cottage Grove    Gill Davies
Craneswater  Karen Braham
Fernhurst  Ivy Casey
Flying Bull  Giri Nair
Lyndhurst    Geraldine Underwood
Lyndhurst  Helen Merel
Mayfield  Carole Sands
Mayfield  Claire Waterfield
Meon     Steve Bayliss
Miltoncross  Catherine Canham
Miltoncross  Fran Knight
Miltoncross  Tony Hobbs
Newbridge  Barry Mills
Penhale  Claire Filson
Priory  Dave Cotton
Priory  Emma Weeks
Priory  Lynn Callus
Priory  Richard Mason
Priory  Sian Davies
Solent   Gary Burnett
Springfield    Sue Durow
St Edmunds    Chandradat Sankar
St Edmunds    Jane Edwards
St Edmunds    Lyn White
St Swithuns    Andrew Olive
St Swithuns    Carol Barber
The Portsmouth Academy  Bev Hill
Westover    Joy Golledge
Teach Portsmouth Week – 30th September to 4th October 2019
Teach Portsmouth is an exciting opportunity to recognise and celebrate our current teachers and for everyone to experience the buzz of teaching. Children and adults alike will be encouraged to learn something new which will broaden their horizons and build confidence through sharing their ideas, skills and knowledge. This is an occasion for teaching to be celebrated and experienced no matter what your age! This week is part of the PEP's Teacher Recruitment and Retention Strategy and forms a really important part of promoting Portsmouth as the place to live and teach.
Teach Portsmouth Week 2018 is already featured on the new Teach Portsmouth website www.teachportsmouth.co.uk, and we will be advertising the events and activities for Teach Portsmouth Week 2019 here, and through the #TeachPortsmouth and PEP Twitter and Facebook feeds.
There are three ways you can get involved in Teach Portsmouth Week:
There are 11 awards to celebrate some of the great work in our city.  Nominations are welcomed from schools, colleges, multi academy trusts and all partners involved in the Portsmouth Education Partnership. Please start to consider who you might wish to nominate. The deadline for nominations is Friday 28th June 2019. For your diary, the Teach Portsmouth Awards evening is on Friday 4th October 2019, so please keep the date free!
2.     My Teacher exhibition
The My Teacher on a Postcard Exhibition has been inspired by a recent Twitter Art Exhibition (#TAE2019). This was held in Edinburgh and included 1000 postcards from around the world. We would love to receive 1000 postcards from around Portsmouth and want every school to take part in creating this amazing display. 
It couldn't be simpler to take part. Each school will be provided with postcards. All you have to do is encourage your pupils (and staff!) to use their imagination to create a piece of hand-crafted or digital art, or written work (such as a description, a poem or a story) or even take a photograph that reflects the theme of My Teacher.
Please take a look at the information which is attached and tells you more. The deadline for submissions is Friday 13th September 2019
At your school – who will take part? (a class, a year group, a project group or wider across your school?) Don't forget adults can also take part. Please let us know how many postcards your school would like – email me back and we will send out the postcards via internal mail. 
3.     In school activities
Some ideas are  here. We know from last year that you will have your own ideas – we can't wait to hear about them. It will be great to evidence all the fantastic work in schools this week across the city. You can help us to do this by sending us details of any scheduled activities as soon as they are planned for potential media coverage, or by sharing photos and media clips that you can of anything you are part of.  I am sure all schools will want to take part in some way or other and we will remind you nearer the time about how to promote what you are doing. For example, you can send photos and media clips to Sarah Lee at [email protected] and we will upload them to our Teach Portsmouth Facebook and Twitter pages, or alternatively you can post them onto social media using the hashtag #TeachPortsmouth.
Portsmouth is one of the areas selected by the government to run a pilot programme to reimburse student loan repayments for modern foreign languages and science teachers in the early years of their careers. Details can be found here.
As well as deciding which age group and subject you would like to teach, you can choose from various types of teacher training courses in Portsmouth depending on your qualifications, experience and where you want to train. Courses are available across the country, so you have plenty of options when it comes to the location of your training.
Before you decide which route into teaching you want to take, you should find out about the common factors that apply across all teacher training courses.
School-led training
If you want your training to be based at a school where you can be fully immersed in the life of a teacher from day one, a school-led training course is for you. You're selected by the school and are based there during your training.
In Portsmouth there are school-led training options for both graduates and career changers who want hands-on training in a school.
Find out more about school-led training in Chichester through the University of Chichester Trust School Direct and the University of Chichester Institute of Education School Direct.
University-led training
University route - both the University of Portsmouth and the University of Chichester together provide over 200 places each year on their PGCE course for graduates
Portsmouth has a GOLD rated university. The University of Portsmouth (UoP) offers secondary teacher training courses for both graduates and undergraduates. UoP work with groups of schools to offer at least two school experience placements as part of your training. The University of Portsmouth is also developing new routes into teaching including graduate teacher training whereby students can train to teach alongside their undergraduate studies in, for example, computing or modern foreign languages.
The University of Chichester has a long and distinguished history in teacher training at both undergraduate and postgraduate level, and offers a range of Continuing Professional Development opportunities and a Foundation Degree in Teaching and Learning Support.
If you already have a degree, one option is to complete a postgraduate certificate in education (PGCE) at a university or college. A PGCE involves a course of academic study that results in a professional academic qualification. It is normally a yearlong, full-time course (or up to two years part-time) that, when combined with a programme leading to QTS, develops your understanding of the theory of education and teaching methods. A PGCE is available through university-led and many school-led training courses.
Teach First
Our a world-class Leadership Development programme offers:
Salaried from September 2019
Fully funded including internationally recognised Postgraduate Diploma in Education and Leadership (PGDE), worth double the credits of a PGCE acquired from our partner universities which include UCL.
Classroom based training leading to your Qualified Teacher Status (QTS)
In addition to three dedicated support links – professional mentor (school), academic tutor (university) & one-to-one coaching (Teach First)
A supportive environment in which to train
Portsmouth Teaching School Alliance provides a collaborative network for supporting teachers and schools in their development. It brings in external expertise and support and helps to ensure that the environment in which Portsmouth teachers train and work is rich in opportunity and helps them to become expert teachers and leaders in their profession.
A career development pathway
We believe that being a teacher means to understand the value of continuous learning and the Portsmouth Teaching School Alliance is committed to ensuring the opportunity for teachers in Portsmouth to continually learn and develop through a structured programme which also supports their career development from trainee teachers through to Head teachers.
Career Development through the Institute for Education
Chichester University offers career development through the Institute of Education CPD, which you can look into further here.
We know that improvements will only be achieved where there is strong leadership in our schools.  Nationally, around 10,000 heads, deputies and assistant heads are aged 55 and over and many will be retiring over the next few years. Filling headship vacancies is already a challenge in Portsmouth, particularly in the primary sector.
The city needs to develop great leaders at all levels through blended coaching, face to face training and online learning. This will need to include: aspiring leadership programmes for groups of teachers preparing for their first leadership role; middle and senior leaders ready for whole school responsibility; development of high potential senior leaders who have the talent and commitment to become headteachers within 2-3 years; and programmes for aspiring or existing Executive Headteachers and CEOs of Multi Academy Trusts.
There are a range of senior leadership programmes available in Portsmouth which are delivered through the Portsmouth Teaching School Alliance, University of Chichester and Ambition School Leadership. A summary of these can be found here
The role of governance in Portsmouth continues to evolve as more schools convert to academy status.
Portsmouth City Council offer four areas of service to Portsmouth schools and academies:
(1)  A new co-ordinated programme of training for governors. Courses are bookable through the Portsmouth traded services website at a fixed price of £45 per course. (A small number of sessions are provided free to all, or to schools buying into particular SLAs.)
(2)  Access to specialist support for governors through the Portsmouth National Leader of Governance (NLG) network. An initial consultation is provided free of charge, with follow up work commissioned directly from the relevant NLG. The normal daily rates are around £200-250 per day.
(3)  A governor recruitment service, whereby school governor and academy trustee positions are advertised on the Portsmouth Together website. The council has also been running a governor recruitment campaign amongst PCC staff and with partner organisations.
(4)  Signposting to additional sources of support, advice and training.   
For further information see the governor pages of the Portsmouth traded services website or email [email protected] 
The Portsmouth Teaching School Alliance also offers governors training. The Local Authority also works with a group of National Leaders of Governance (NLGs) who can offer support to schools and academies, and can strengthen the link between governance and school improvement including access to robust data and analysis. The Governance Directory 2018 provides further details.
Many schools either have or expect to have a governor vacancy in the near future. We have therefore agreed with Portsmouth Together, a one stop shop for volunteering opportunities in Portsmouth, that schools and MATs can use the Portsmouth Together website to recruit for governors and trustees. Alison Critchley has provided a template advert (attached) and will help with posting current vacancies (the website can also be used to seek other volunteers to work in your school). If you have any vacancies that you would like us to advertise then please forward details to Alison using the attached template.  The template can also be accessed here.